Calendar of Events
Spring 2013
Wednesday, May 22, 2013
Fusion with cello, piano, sax, drums, bass and guitar
Jazzschool Institute at the Freight and Salvage Coffee House 2020 Addison St. in Berkeley

8 pm Jazz Fusion
8:40 Bluegrass Ensemble
9:30 Gypsy Jazz
tickets $12.50 at the door,
$10.50 in advance
It's part of a 2 night showcase -- the Tuesday night concert will be music of Art Blakey and the Free Jazz ensemble. http://www.thefreight.org/jazzschool-institute-concert-0



Winter 2012
December 11, 2012
Music of Charles Mingus
Freight and Salvage Coffee House, 2020 Addison Street in Berkeley
9pm to 9:50 pm
This Jazzschool Institute ensemble includes piano, bass, drums, trumpet, trombone, and me on cello. Preceded by the Jazzschool Strings Ensemble at 8 pm. A rare opportunity to hear strings playing many styles of jazz.
Summer 2012
2 Free Concerts at the Jazzschool, 2087 Addison St, Berkeley
Friday, Aug 3, 2012, 6-6:45 pm
Charles Mingus ensemble directed by Jeff Denson

(Jazz Repertoire concert is at 5-5:45 pm)


Thurs, Aug. 2, 5:45 - 6:30 PM

String ensemble, directed by Mads Tolling
modern jazz arrangements by Turtle Island Quartet

(Gypsy Jazz and Jazz Fusion groups play at 3:45 and 4:45 pm)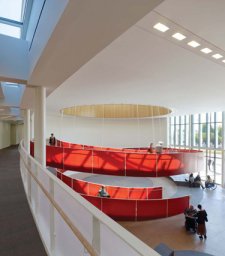 Sat, July 21, 3 PM
Paces celebrates the Ed Roberts Campus
3075 Adeline St, Berkeley
(south of Ashby, above BART)

Lucinda Weaver, dancer and choreographer,
Alan Bern, Poet and Storyteller,
Joe Weaver, dancer,
Gael Alcock, cello,
and Matthias Oppliger, Images

A benefit for the Center for Accessible Technology

$10 suggested donation, reception follows

phone 510-684-0931, email abbern@sbcglobal.net



Fri, July 13, 6:30 PM
Berkeley Ars Festival

Storytellers Cantey Meigs, Michael Katz, and Dean Santomieri,
with Nicole Milner, piano, Ron Heglin, trombone, and Gael Alcock, cello

An offering of enchanting tales from four continents.

At 2133 University Ave, next to Ace Hardware

Freewill donations benefit CHA house, college prep intensives for Central Valley teens.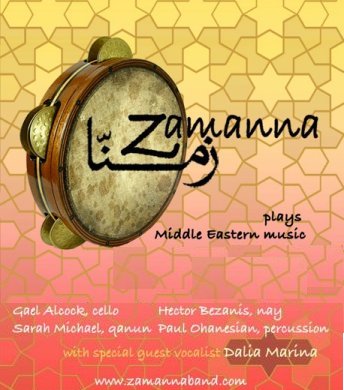 Thu, June 28, 12:30 PM
Yerba Buena Gardens Festival

Zamanna (Sarah Michael, Hector Bezanis, Paul Ohanesian, Gael Alcock, Charles Montague)

Performing with Dalia Marina, Palestinian-American vocalist
Arabic music old and new.
Presented by Arab Community and Cultural Center.

On Mission Street in San Francisco, between 3rd and 4th Streets

Admission Free

Spring 2012
Wed, May 9, 8 PM
Jazzschool Institute Gypsy Jazz and East Bay Funk Ensembles at Freight & Salvage.

An evening of cutting-edge jazz
Freight and Salvage, 2020 Addison in Berkeley
$10.50 advance / $12.50 at door
8:00 pm
Directed by guitarist Paul Mehling, the Gypsy Jazz Ensemble performs jazz in the style of Django Reinhardt and Stephane Grappelli. Hande Erdem and Bobbi Nikles on violin, cellist Gael Alcock, Craig Browning on accordion, Harrison Gold, Tristan Norton, and James Pickrel on guitar, and bassists Mike Sweetland and Rick McFarland.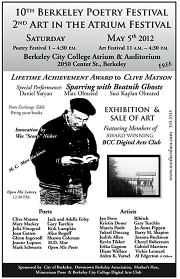 Sat, May 5, 1 - 4:30 PM
Berkeley Poetry Festival
The 10th Annual Poetry Festival will be held this year on May 5th, from 1 – 4:30 P.M., in the Auditorium at Berkeley City College, 2050 Center St. (1 block from Berkeley BART station, between Milvia and Shattuck Ave.)
Clive Matson with Gael Alcock, cellist, will read at 3:50 p.m.. Clive will receive the festival's Lifetime Achievement award.

Sun, April 22, 2pm – 5pm
Virago Theatre Company presents
Madama Butterfly by Giacomo Puccini
Sunday, April 22 • 2 pm
Directed by Robert Lundy-Paine Conducted by Jerry Kurderna Starring soprano Eileen Meredith
The Hillside Club, Berkeley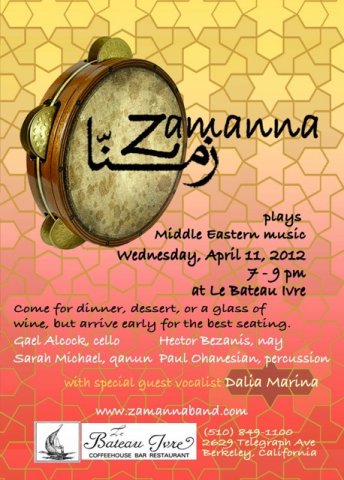 Wed. April 11, 7-9 PM
Zamanna plays Middle Eastern music at Le Bateau Ivre
Come for dinner, dessert, or a glass of wine, but arrive early for the best seating.
Gael Alcock, cello; Hector Bezanis, nay;
Sarah Michael, qanun; Paul Ohanesian, percussion;
Special guest vocalist DaLia Marina
Le Bateau Ivre, 2629 Telegraph Ave. at Carleton, Berkeley
(510) 849-1100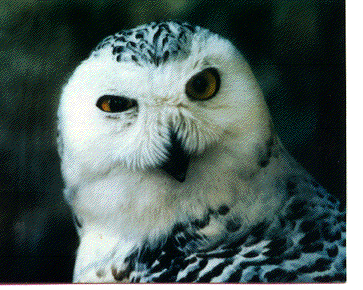 Winter 2011
Dear friends,
Please drop by for infusions of music in various styles.
Classical string trios:
Friday, December 9, 5-7 pm at SALA, 1746 Shattuck Ave.
510.848.1080 -- www.salaberkeley.com
Sunday, December 11 on 4th St. near Peets, 12 -2 pm
Friday, December 17, same location, 3-5 pm
Charles Montague, viola
Toshi Takeuchi, violin
Gael Alcock, cello
joined by Sarah Michael, qanun
(Donations for the dates above benefit the String Program at Joaquin Miller Elementary School. )


Wednesday, December 14, 7-7:50 pm ( see full schedule below)
Gypsy jazz :
Wednesday, December 14, 7-7:50 pm ( see full schedule below)
at the Jazzschool, 2087 Addison ( next to Aurora Theater)
bass, drums, violin, cello, accordion, and two guitars
Classical Arabic:
Wednesday, Dec 21 , music by Zamanna , 7-9 pm
at Le Bateau Ivre, coffeehouse bar and restaurant,
2629 Telegraph Ave at Carleton
reservations: 510 849 1100
Hector Bezanis, nay
Sarah Michael, qanun
Gael Alcock, cello
Paul Ohanesian, percussion


December 14 full schedule for Jazzschool Institute recital
6 pm Jazz Repertoire Ensemble (dir. Jeff Denson)
7 pm Gypsy Jazz Ensemble (dirs. Evan Price & Paul Mehling)
8 pm Jazz String Ensemble (dir. Mads Tolling)
9 pm Jazz Orchestra (dir. Keith Johnson)


Salon Concert
Saturday, November 12, 3 pm
hosted by Gael Alcock and Adele Mendelson
5228 Miles Ave, Oakland, CA
Andrew Jamieson, piano, Claire Lavery, flute,Gael Alcock, cello
sonatas by Pietro Locatelli, and Michele Corrette
songs by Cole Porter
music and spoken word open mic,
wine and cheese


Summer 2011
July 23, 8:00 PM
Saturday
Summer Salon at Western Sky Studio
2525 Dwight Way at 8th Street
West Berkeley
Classical and contemporary pieces in diverse styles for dancers, trombone, cellos, flute, piano, voices and guitar
featuring sound recordings of Ann Kroeber, and short fiction by Summer Brenner. Dancers: Caroline Alexander and Andrew Ward
Musicians and composers: Ron Heglin, Joshua Pollack, Hugh Fox, Gael Alcock, Cello Zymbidium, Claire Lavery, Carol Reitan. Andrew Jamieson
refreshments and DJ dance to follow
$10 adults, $5 youth ( suggested donation )
produced by Gael Alcock
510 548 9050
Spring 2011
March 23-April 25
5 Weeks, Wednesday thru Sunday.
"Beardo: a joyfully rambunctious spin on the Rasputin legend"
Acted by Shotgun Players
Playwright Jason Craig, Composer Dave Malloy, Artistic Director Patrick Dooley
String quartet: Jo Gray, Jessica Ling,
Charles Montague, Gael Alcock*
with Bassist Olive Mitra
*(and cellist Ari Gorman on Thu, Mar. 24)
At Ashby Stage
1901 Ashby Ave. (at Martin Luther King Jr. Way)
Berkeley, CA
http://www.shotgunplayers.org/2011_beardo.htm
510-841-6500
Thursday, March 24, 7:00 pm
Poetry Rocks the Randall
Orchestrated by Stephen Kopel
Brent Calderwood; Jennifer Barone;
Jon Siegel, Jeanne Lupton;
Gael Alcock, cello;
Daniel Haffez saxaphone
Free Admission
Tuesday, Feb. 15
Joaquin Miller Winter Concert
Band, led by Matthew Morrish,
Strings by Gael Alcock
7:00 PM Multipurpose Room
Joaquin Miller Elementary School
Montclair, Oakland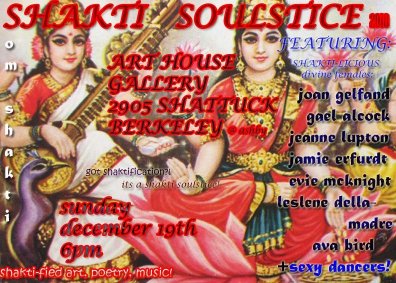 Winter 2010-11
Monday, Jan. 3, 7:00 pm
Quiet Lightening at Public Works
Public Works
161 Erie Street
San Francisco, CA 94103
7:00 PM, $3.00
Cello & Readings


Sunday, Dec. 19, 7:00 pm
Shakti Soulstice Celebration
Art House Gallery
2905 Shattuck Ave. at Ashby
Berkeley
Art, music, poetry, dance
Divine females making shaktified spectacle
Ava Bird, Joan Gelfand, Gael Alcock, Jeanne Lupton,
Jamie Erfurdt, Evie Mcknight, Leslene Della-Madre


Sunday, Dec. 12, 3:00 - 5:00 pm
A celebration of Summer Brenner's new collection of stories, My Life in Clothes, please join Summer and cellist Gael Alcock for a reading-musical salon.
SALA: A boutique of exquisite, hand-crafted clothing
1746 Shattuck Avenue (at Francisco)
North Berkeley.
Sunday, Dec. 5, 4:00 - 6:00 pm
Hillside Club Member Artists' Show
Gael Alcock & Andrew Jamieson, cello and piano, Claire Lavery, flute
Hillside Club, 2286 Cedar St (at Arch) in Berkeley
Saturday, Dec. 4, 7:30 pm
Summer 2010
Sunday, July 18, 5:30 - 6:30 pm
Gael Alcock, cello
James Carmichael, piano
Rachel Durling, violin
Erik Pearson, guitar

2016 7th St in Berkeley
Little Theater of Black Pine Circle School

$10 advance, $12 at the door, children free
Benefits CHA House, summer academic
Enrichment for central valley teens

Phone 510-548-9050
Wheelchair access

Autumn 2009
Saturday, October 24, 7:30 pm
Anne Shapiro mezzo soprano
Rebecca Trujillo, piano
Javier Trujillo, guitar
Gael Alcock, cello

Ridhwan Center 2075 Eunice St Berkeley

$20 benefits Ridhwan Building Fund

Sunday, October 4, 2:30 pm
"Celebration of Cragmont Rock Park Paces"
dance and poetry


Alan Bern, Poet and Storyteller
Lucinda Weaver, dancer
Gael Alcock, Cello
Guest Artists and speakers

a free program sponsored by Susan Wengraf, Councilmember, district 6 City of Berkeley

phone 510-email abbern@sbcglobal.net

Sunday September 20 3pm
Tilden Park, Richmond Ribbons and Hot and Cold present memorial picnic-concert featuring Lucky Dragons Gael Alcock,cello

info: ribbonspublications@gmail.com
Summer 2009
Saturday, August 22, 2009 -- 7:00 PM

"Minor Excursions"
Tai Ji Masters Marilyn Cooper and Josh Alperin grapple in "Minor Excursions".
Musical scores by Gael Alcock, cello
With special guests:

Fiddler extraordinaire, Sue Draheim
Zymbidium Cello ensemble (Hugh Fox, Adrienne Miller, Su Wen Yang, Rachel Maloney, Craig Upson, George Meigs, Chris Becerra)
Poets' and Musicians' Open Mic

Berkeley Art Center
1275 Walnut Street
(eastern edge of Live Oak Park)

Hosted by Eliza Shefler (510-527-9753)

Doors open at 6:30 p.m.

Admission Free, Donations Appreciated
Saturday, June 27, 2009 -- 7:00 PM
"Star Spangled Summer"
Cello concert
2424 Warring St.
Berkeley (Adjacent parking)

Gael Alcock, cello; Skye Atman, piano;
Adam David Miller, poet.
Music of Bach, Shostakovich,
Chick Corea, Lenny Carlson.
$10 admission, benefits CHA House

Call 510-548-9050 for more info.
Summer 2008
Wednesday, Aug 20, 2008, 5:00 PM
Cello-Piano Recital
West Parish Meetinghouse, Barnstable, Mass.
Map to West Parish Meetinghouse

Jane Donnelly, piano, Gael Alcock, cello

Works by Schubert, Shostakovich, Breval
Sunday, June 22, 2:45 PM
"Arciform" for solo cello,
opens the 35th Anniversary Celebration for
Wu Tao Kuan Martial Arts Institute

Health Education Center
400 Hawthorne Avenue, Oakland
$45 for all performances( purchased by June 1)
phone:510-336-0129
Sat June 7
"Phoenix Rising"
Music of Wendy Loomis for piano, cello, and flute

Trinity Chamber Concerts
2362 Bancroft in Berkeley
for more information about this particular concert
phone:549-3864
Sunday, May 18, 3:00 PM
Concert by students of Gael Alcock and Monica Williams

"Celloposse" and "Flock of Flutes", combined flute and cello choir, playing music from around the world

Walnut Creek Civic Arts Education Center
111 N Wiget Lane , Walnut Creek
$10-12 admission
Saturday, May 17, 2:00PM
Original solo cello compositions and readings by poets Adam David Miller and Mark Hoffstader

Berkeley Main Library
Free admission
Sunday, May 11, 7:00 PM
Piano/Cello works by Shostokovitch, Schubert
Mays Chapel, Baltimore, MD
Saturday, May 5, 3-5 pm
Gael Alcock cello concert
Reception for Strong Waves
Women's Caucus for Art Exhibition
Claudia Chapline Gallery
Stinson Beach, California
Sunday, March 30, 3:00 PM
Book Party for
Adam David Miller, poet and author of Ticket to Exile
3 PM at the Berkeley Fellowship of Unitarian Universalists , Cedar @ Bonita
with Edie Hartshorne, flutes and koto, and Nicole Milner, piano, Gael Alcock, cello
Sunday, Mar 23, 10:30 AM
Music for Easter service by Teleman, Vivaldi, Luiz Bonfa
performed by Celloposse
at the Berkeley Fellowship of Unitarian Universalists
corner of Cedar and Bonita
Tuesday, Mar 4, 7:30 PM
chamber music concert by
Martin Luther King Middle School Musicians
MLK auditorium Rose @ Grant St
free
Monday, Mar 3, 7 PM
Joaquin Miller Elementary Strings and Band Concert
5525 Ascot Dr Montclair, CA
free
Sunday, Mar 2, 4-7 PM
music by East Bay jazz composers
featuring vibraphonists:Yancie Taylor, Herb Gibson and Roger Glenn
Rhythm: Glen Pearson, piano, Marcus Shelby, bass, Babatunde Lea, drums
Strings : Karese, viola, Yoon Ki, violin, Gael Alcock,cello, Sandi Poindexter, violin
Tickets are $20 general, $15 for student/senior
Oakland Public Conservatory 1616 Franklin St. in Oakland
benefits San Francisco Bay Area African American Musicians
Fall 2007
Wednesday, November 7, 8 pm
Visual Concert at Strings Acoustic Showcase
6320 San Pablo Ave. Emeryville
653-5700
Presented by John Pearson, photographer
$5-10 admission
Saturday, November 3rd
Chapel of the Chimes, Oakland
World Flute Festival
Bay Area Chamber Symphony and CopusTrio
Music of Terry Riley and Wendy Loomis
Sunday, September 23, 10:30 AM
Service at the Berkeley Fellowship of Unitarian Universalists
Music by Celloposse
Gael Alcock with cello students Nancy Ellis, Hugh Fox, and Alice Feller
Tuesday, September 18, 9 AM
Joaquin Miller Elementary School
Music assembly
"The Tambourine of the Infanta"
Gael Alcock, cello and storytelling
Thursday, October 25 6:00-7:30 pm
Oakland Main Library 1st floor
Oakland Outloud
Presented by Pen Oakland
With Adam David Miller and Gael Alcock
Marie Espinosa, Christopher Bernard, Julia Park Tracey, Marek Brieger

Free admission
Summer 2007
Thursday, July 26, 2007 7:30 pm
"Never and Always", a concert of dramatic chamber works (Click here to view poster)
at the Berkeley Fellowship of Unitarian Universalists
1924 Cedar St. at Bonita
Berkeley, CA
Admission $10
Wheelchair accessible
Contact: 510-548-9050

Presented by Polyhymnia
Gael Alcock, Lauren Carley, Rachel Durling, Thea Farhadian, Charles Lucke, John Pearson, Madeline Prager, Katrina Wreede, Monica Williams, Sara Usher

Program:

Il Tramonto for string quartet and mezzo by Ottorino Respighi
Elpenor, a radio poem for 5 actors, flute, and string quartet by Albert Roussel
Madame and the Three Visitors for voice and cello by Betty Roe, text by Langston Hughes
Duo for laptop and viola by Thea Farhadian and Katrina Wreede with photographs by Charles Lucke
Spring 2007
Friday, April 27, 2007 7:00 pm-10 pm
First Annual Bay Area JazzPoetry Festival
Berkeley Hillside Club
2286 Cedar Street
(510) 848-3227
www.hillsideclub.org
Admission: $20
Festival Lineup: • Golda Soloman and Saco Yasuma (NYC) • Avotcja and Modupue (Oakland) • Adam David Miller and Gael Alcock (Berkeley) • COPUS (SF) • UpSurge! (Oakland)
March 28, 8PM
Visual Concert at Strings Acoustic Showcase: photographers and musicians collaborate on slide shows with live improvised accompaniment
March 18, 4 PM
acappella choral works by Aaron Copeland, and Il Tramonto, a mini opera for mezzo and string quartet by Respighi with Lauren Carley, mezzo
March 11, 4 PM
Untiarian Fellowship, Cedar and Bonita party to meet new board members of KPFA radio sponsored by Coalition for a Democratic Pacitica music by Celloposse
WINTER 2006-2007
January 25, 2007
Winter Concert, Joaquin Miller Music Program Gael Alcock, orchestra conductor
TEANCE 1780 4th St, Berkeley opening celebration with new cello solos, lion dance, firewalking , chocolates, and tea
December Poetry and Jazz in the Library Main Library, downtown Berkeley with Adam David Miller, and New Orleans poet Lee Grue with Eluard A Burt , jazz flute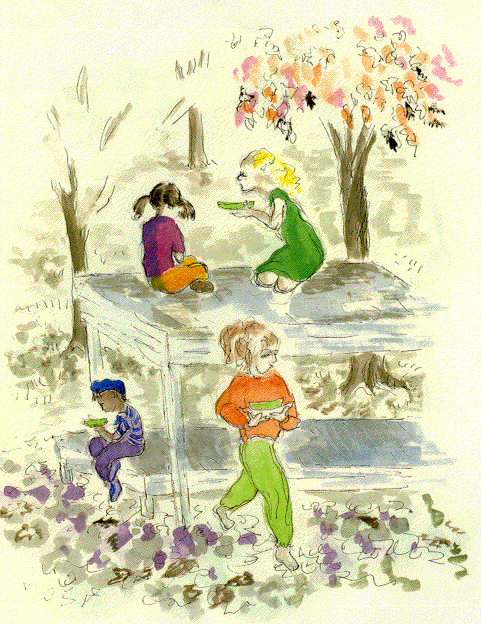 FALL 2006
November
Youth Connect a City of Berkeley sponsored event to connect homeless youth to free health, recreation, and education programs and services cafe music by Celloposse and Rhythm and Muse
October 28
Oakland Public Conservatory: Soul Music solo vocal recital by Lauren Carley with Skye Atman, Sandi Poindexter, and Gael Alcock
October 13, 7 PM
Poetry and Music to support rebuilding of New Orleans: Main Library, downtown Berkeley with Adam David Miller, and New Orleans poet Lee Grue with Eluard A Burt , jazz flute
SUMMER 2006
Aug 13-20
Cazadero Family Camp: "String Quartet Plus" -- improv class for mixed level bowed instruments taught by Gael Alcock cafe concert by Cazadero Jazz Collective
IN CELEBRATION OF SWIMMING: summer events produced by Gael Alcock and City of Berkeley
July 23
"Agua Sring Quartet:" with Summer Brenner, Ron Erickson program of Faure, Larry London,Eduardo Rovira at Live Oak Park community center
July 17
King Pool Party: with music by "Mark of Choros" , synchronized swimming, diving , and demos by BAM
June 10
lecture by Berkeley Aquatics Masters coach Blythe Lucero, music by Sidi Yassir and Bouchaib Abdelhadi held at Berkeley Art Center
SPRING 2006
April 22 and 30
performances by "Of the People, for the People, and by the People" string ensemble of King Middle School playing early American music at Berkeley Art Center and Unitarian Fellowship
April 3
"Connect Youth Event:" music by LUA and Celloposse Lutheran Parish Church sponsored by YEAH and City of Berkeley
March 26
"A Musical Offering:" KPFA live radio program on a theme of "Boundaries" with Adam David Miller stories, music, and poetry
March 24
Benefice for La Vache Enrage, a theater company: Music by Christine Mclintock
March 22
Visual Concert at Strings Acoustic Showcase featuring photographers and musicians including Molly Axtmann and John Pearson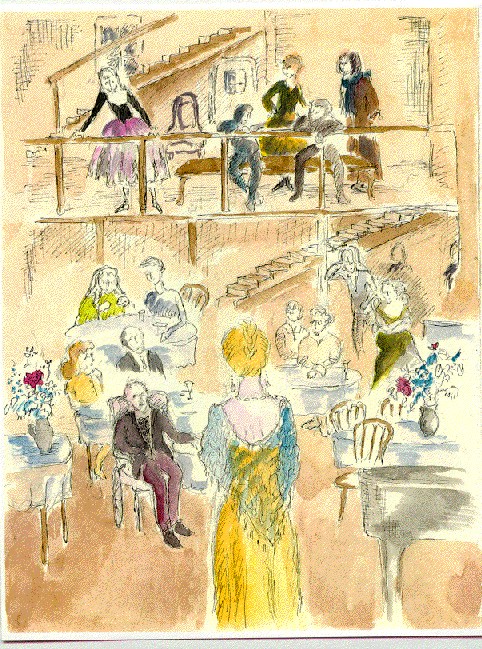 May 17, 3-5 PM
Anna's Jazz Island Allston Way, Berkeley: Island Literary Series produced by Kim McMillon featuring Nina Serrano, Adam David Miller, Gael Alcock
Saturday, May 6 at 1 p.m.
Animal Story Hour
Randall Museum, 199 Museum Way, San Francisco admission free. With cellist Gael Alcock, photographer John Pearson, and pianist Nicole Milner
Sunday, April 30
"Save Our Steinway" continual live music from 2:30-6:30 p.m. including singer/songwriters Irina Rivkin, Maxina Ventura, Hali Hammer, Anita McVey, Michelle Johnson, cellist Gael Alcock with pianist Andrew Jamieson. At Berkeley Fellowship of Unitarian Universalists, corner of Cedar and Bonita in Berkeley. $5.00 admission, with silent auction, and the opportunity to sponsor a piano key.
Monday, April 3 from 2-8 p.m.
"YOUTH CONNECT" for transitional age youth. Offering barbeque,services and participatory arts at the Lutheran church of the Cross, 1744 University Ave, cross street Mcgee. Music in the café: LUA (singer Estela Knott, bassist Dave Berzonsky, and cellist Gael Alcock) will play from 2-4, Stupendous Cello Quintet from 6-8.
March 25 ,9:30-12 p.m.
At Café La Onda, 3159 16th St, San Francisco Benefice!, a benefit for La Vache Enragee Productions, Galactica Orchestra plays music by Christine McClintock Admission, $10
March 26, Sunday
"A Musical Offering" KPFA 94.1 from 8-9 a.m.. With poet Adam David Miller and cellist Gael Alcock telling stories, playing music, and reading poems on the theme of "boundaries."
March 22 8 p.m.
Visual Concert at Strings Acoustic Showcase, 6350 San Pablo Ave in Oakland. Photographers John Pearson, Charles Luckie, Ingebord Gerdes, Ed Aust, and painter Carol Aust. Musicians Nicole Milner, Molly Axtmann, Caren Armstrong, Joey Lent, and Gael Alcock
March 11
Rhythm and Muse 7 p.m. Berkeley Art Center, 1275 Walnut St.. between Eunice and Rose Gael Alcock with teenage string players, "Self Evident Truths," and poet Ashley Smiley of "Colored Ink ."
WINTER 2005-2006
February
Sunday, February 26
Live Concert: Mays Chapel, Timonium, Maryland Pianist Jane Donnelly, and cellist Gael Alcock Beethoven, Stravinsky, and Vivaldi
January
On Friday 13, "Womansong", an evening of singing and ritual to celebrate the new year features vocal music with cello ,text by Sufi poet Hafiz. The group of women singers invites newcomers; led by Betsy Rose, it meets each month. Visit her website: www.betsyrosemusic.org. A tribute and memorial to Ted Friedman, scientist, engineer, philosopher, and activist member of the Pacifica Local Advisory Board, will be held on January 8 at the Berkeley Fellowship of Unitarian Universalists. . Pianist Nicole Milner, members of Bread and Puppet Theater, and cellist Gael Alcock will present celebratory music and song.
December
Dec 12 and 13
Oakland Public Conservatory Open House This is a vibrant community music center in downtown Oakland on 1616 Franklin St. Violinist-wizard India Cook, Sandi Poindexter, Teddy Strong, Avotcja, and many other teachers will perform and lead workshops.
Dec 16
Hand to Hand Arts Fest 8 PM. At "Hand to Hand", a martial arts studio on San Pablo Ave in Oakland., the artists sell crafts, and read poetry and fiction, demonstrate hip-hop dance, martial arts, and present theater ,comedy and music.
Dec 16 5-7PM
Gala Opening of Ellen's Fashion Revival On 17th Street, between Franklin and Webster, hand-sewn , individually designed clothing and accessories, champagne, truffles , Bach and Vivaldi.
Holiday Salon at the Berkeley Buddhist Monastery.
December 23 at 7:30 AM, featuring Rev Heng Sure with Buddhist versions of Christmas carols, piano preludes by Bach and Phillip Glass, songs by Brendan Shiobban, classical guitar, cello solos, and films of tai chi masters. Sublime vegan breakfast will be served.
Anna's Jazz Island , 2120 Allston Way
Nov 27 3-5 PM
The premiere of Island Literary hosted by Kim McMillon, features Avotcja, Val Serrant (steel drums and percussion), Kaylah Marin (vocalist), Gael Alcock, (cello), Adam David Miller, Lucha Corpi, and Maria Espinosa. Anna's has exceptional acoustics, light fare, and palm trees.